A new week begins and is approaching D-Day! One month exactly separates us from the expected weekend. To wait, make you dream, and to continue feeding our beautiful selection, here's today a nice interview of the sweet Aimee Bea Ballinger : 
Une nouvelle semaine commence, et on s'approche à grands pas du jour-J ! Un mois très exactement nous sépare du week-end tant attendu. Histoire de patienter et de vous faire saliver, pour continuer d'alimenter notre belle sélection, voici aujourd'hui une jolie interview (en anglais) de la douce Aimee Bea Ballinger :
Burning House Books – Falmouth, UK
My name is Aimee and I founded and run Burning House Books, a UK based online and pop-up independent bookstore specialising in queer* histories and female identifying writers and artists.
*Queer encompasses all gender and sexual orientations. It is a more fluid term (compared to LGBTI or man / woman, which are more fixed terms) that allows to recognize a difference, without having to define it rigidly.
Je m'appelle Aimee, j'ai fondé et je dirige Burning House Books, une librairie indépendante en ligne basée au Royaume-Uni et spécialisée dans des histoires queer* et de femmes artistes-écrivaines.
* Queer englobe tous les genres et les orientations sexuelles. Il s'agit d'un terme plus fluide (comparativement à LGBTI ou homme/femme, qui sont des termes plus fixes) qui permet de reconnaître une différence, sans avoir à la définir de manière rigide.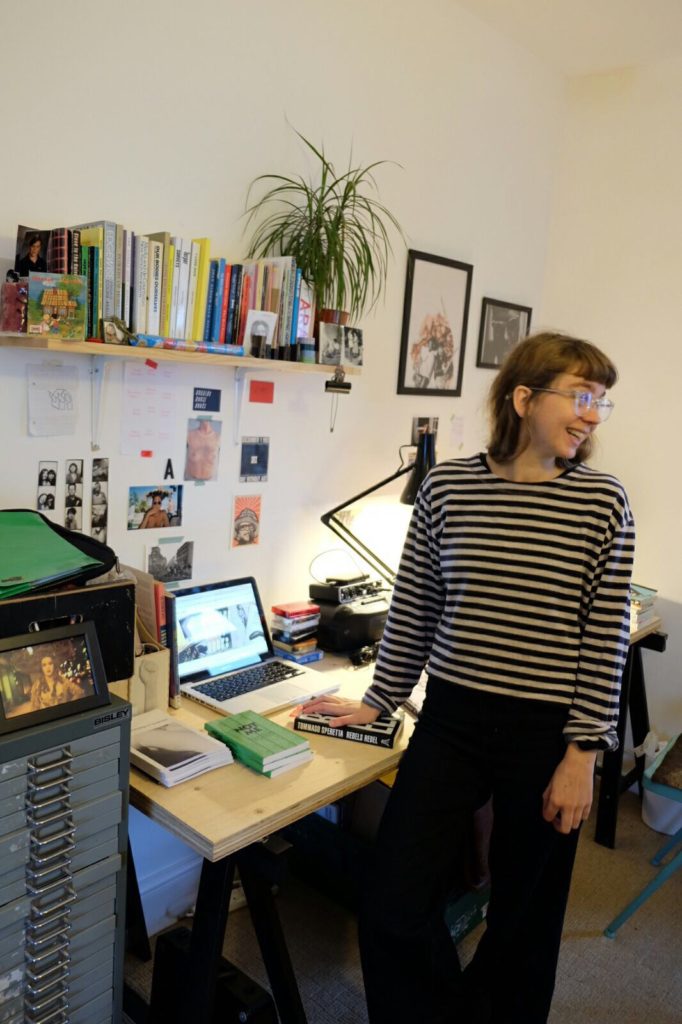 What kind of relationships do you maintain with mircopublishing?
Pretty much all the books that I stock are either self-published by the artist themselves or from small publishers all over the world. I love independent publishing because it allows me to have more direct contact with the artists and writers and in turn strengthens this community. I also think that the DIY and micropublishing world is the perfect antithesis for spending too much time online. I think it's so important to keep creating beautiful, informative and tactile things that you can hold in your hands and read without the impersonal boundary of a screen.
Presque tous les livres que je stocke sont auto-édités par l'artiste lui-même ou de petits éditeurs venant du monde entier. J'adore la publication indépendante car cela me permet d'avoir un contact plus direct avec les artistes et les écrivains et de renforcer cette communauté. Je pense aussi que le monde du DIY et de la micropublication est le parfait remède pour passer moins de temps en ligne. Je pense qu'il est vraiment important de continuer à créer des choses belles, informatives et tactiles que vous pouvez tenir entre vos mains et les lire à travers sans la frontière impersonnelle d'un écran.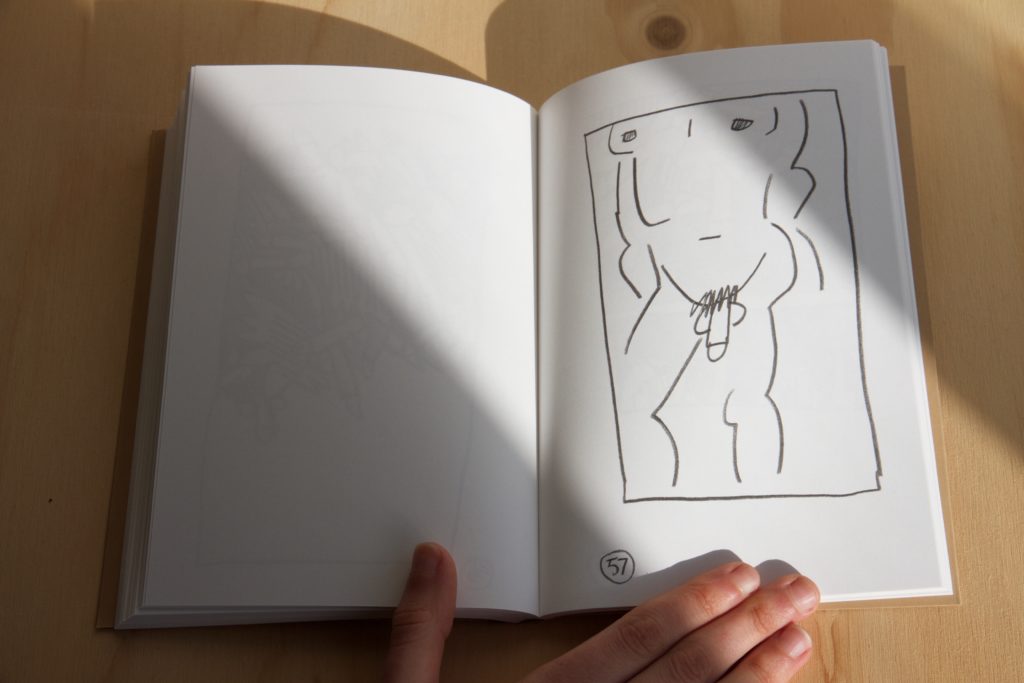 Is it more a poetic or political act?
I would say that Burning House Books as a project is more political than poetic. I am constantly looking out for work that reinforces my own left wing beliefs. My favourite kind of books are those that challenge or call to account the violent conservatism that is currently plaguing our world. I don't have a lot of interest in things that exist purely for their aesthetic value.
Je dirais que Burning House Books est plus politique que poétique. Je suis toujours à la recherche d'un travail qui renforce mes propres croyances de gauche. Mes livres préférés sont ceux qui sévissent actuellement dans notre monde. Je n'ai pas beaucoup d'intérêt pour les choses qui existent uniquement pour leur valeur esthétique.
Some nice influences to make us discover?
I have SO many influences that it would be difficult to name them all! One of my most favourite bookshops in the world is News From Nowhere in Liverpool, UK. It's a radical, non-profit community bookshop that's been run by a women's co-op since 1974. Their selections are always amazing and I've never come away from a visit without an armsfull of new things. Other influences include Another Country Bookshop (Berlin), Wet Satin Press (London), Feminist Press (NYC) and Fish Factory Art Space (Falmouth, UK). My ultimate inspiration is probably David Wojnarowicz, a mixed media artist, writer and prominent AIDS activist from the 1980's NYC East Village art scene. The name Burning House Books is actually taken from one of his paintings. For me, Wojnarowicz represents an intelligent, perceptive and persistent working class voice tirelessly working to disseminate real emotion and truth is a world filled with violent lies.
J'ai tellement d'influences qu'il serait difficile de les nommer toutes! L'une de mes librairies préférées du monde entier c'est News From Nowhere à Liverpool. C'est une librairie communautaire radicale et sans but lucratif gérée par une coopérative de femmes depuis 1974. Leurs sélections sont toujours incroyables et j'en sors toujours avec les bras plein de nouvelles choses ! D'autres influences incluent Another Country Bookshop (Berlin), Wet Satin Press (Londres), Feminist Press (NYC) et Fish Art Factory Factory (Falmouth, Royaume-Uni). Mon inspiration ultime est probablement David Wojnarowicz, un artiste des médias mixtes, écrivain et militant proéminent du sida de la scène artistique NYC East Village des années 1980. Le nom Burning House Books est en fait tiré d'une de ses peintures. Pour moi, Wojnarowicz représente une voix ouvrière intelligente, perspicace et persistante qui travaille sans relâche pour disséminer l'émotion réelle et la vérité est un monde rempli de mensonges violents.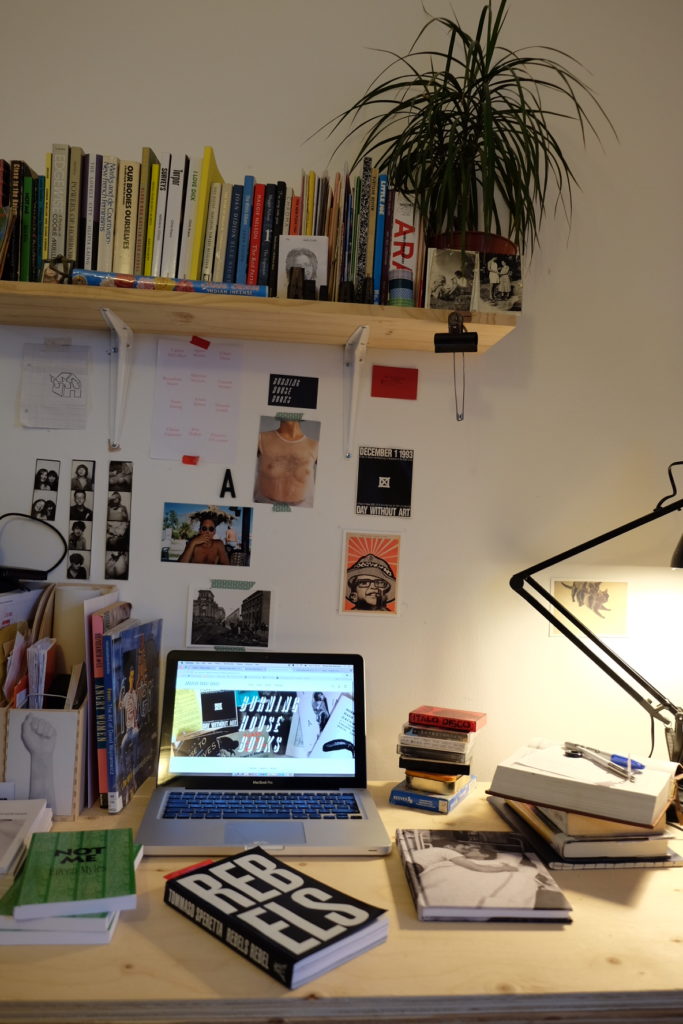 To conclude, have you some brand new projects to share with us ?
I am currently working on a writing and publishing project with my partner, Ben from Spaghetti for Brains (who I'll be sharing a table with at Papier Carbone!) SFB publishes small editions of politically charged short stories and essays, expertly illustrated with collages by Ben. He's going to be publishing an illustrated short story of mine. It's so much fun to bring ideas together and I hope we can work on bigger and better things in the future.
Je travaille actuellement sur un projet d'écriture et de publication avec mon partenaire, Ben de Spaghetti for Brains (avec qui je partagerais mon stand à Papier Carbone!). SFB publie de petites éditions de nouvelles et d'essais politisés, illustrés de manière experte avec des collages. Il va publier une de mes nouvelles illustrées. C'est tellement amusant de rassembler des idées et j'espère que nous pourrons travailler sur des choses plus grandes à l'avenir !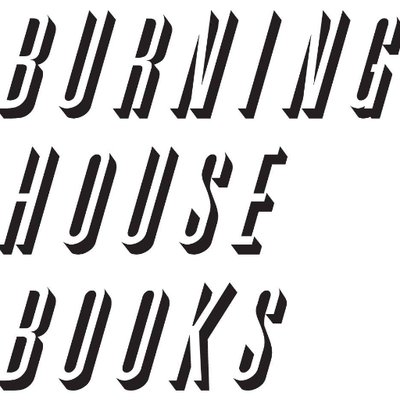 Thank you very much Aimee for these beautiful answers! We can't wait to see your selection and your nice work! See you soon at the festival!
Merci beaucoup Aimee pour ces belles réponses ! On a tous hâte de voir ta sélection et ton chouette boulot !
On se voit bientôt au festival !